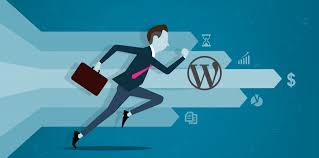 23Aug
5 BENEFITS OF USING WORDPRESS : WHY SHOULD YOU USE WORDPRESS FOR YOUR CMS SITE?
Well, let me first clarify these abbreviations, CMS stands for Content Management System. Anything that you publish on the web is via CMS. We all know "Content is King", therefore, whenever you start off your website you need content. And making your website on WordPress is highly-recommendable across the world. Why?
Let's talk about, WordPress, it was launched by Matt Mullenweg and Mike little in 2003, which was specifically meant for Bloggers. Whosoever wants to start their career as a blogger, or writer can make setup their website by using WordPress.
But the question still remains, why businesses these days prefer to make their website in WordPress. Let's dive into its reasons:
It is absolutely free-
The basic version of WordPress is absolutely free. Thus, if you are planning to have your own website or you have just started your business and investing in a website seems worthless to you, then trying the basic version of WordPress can be an ideal choice! You can analyze the response towards your website and then think of paying for added features.
It is very popular and easy-to-use –
WordPress is highly popular. According to researchers around 75 million are running on WordPress and half of them are free versions. So I guess further you can imagine the power of WordPress. Moreover, the core reason for its popularity is- it is incredibly user-friendly. Yes, you heard right! WordPress is very easy-to-use for which you don't require prior knowledge, or get some training for learning the software or become a developer and do the coding yourself.
It consistently updates and keeps your website well-maintained-
When you become a WordPress user, there's always a backend team to maintain the efficiency of your website consistently. It keeps on updating your website to secure your website in a better way and introduce you new features that will be more attractive. Moreover, if any issue occurs they accurately fix it without even letting you know. In this way, your work efficiency will never get hampered.
It is mobile friendly-
Google has an index mobile-friendly website more frequently. Thus, web developers strive hard to make websites highly-responsive so that users will tap into your website easily. But when you are using WordPress you don't have to code your website for making it mobile-friendly as you'll get your website will be very responsive on this platform.
Made for SEO's-
It is significant for your website to be SE0 friendly in order to reflect in SERPs. Why have you made your website? To make your online presence, get in touch with your target audience and generate more leads, but how your target audience will contact unless and until they are able to find you in search engines. Thus, SEO is highly important to rank your website and increase your ROI.
In conclusion-
Well, there are countless reasons to use WordPress for your CMS website; the above-mentioned reasons are some of the best one. Grow your business and bottom line with WordPress!