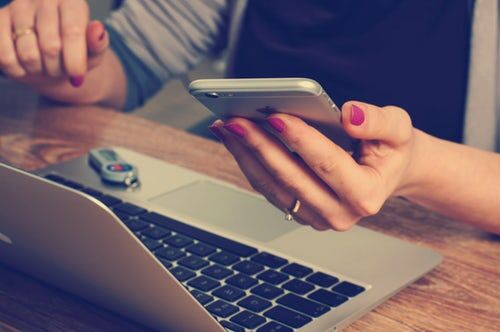 19Nov
What Makes Mobile App a Better Option than a Mobile Website? Let's Explore
These days, mobile website vs mobile app can be the hottest topic for every single person. As a website owner, no doubt, you are perplexed in between the both and deciding which is the ideal option and worth your investment is pretty difficult. They both have their very own method of working and generating business leads, which often confuses the marketers.
So, what is the real advantage of mobile apps for businesses? Just take a look at some data from last year.
Studies show that mobile users spend 86% of their mobile time mainly on mobile applications. They are not only using apps to access information on a regular basis but their relationships with brands are similarly migrating to applications, with 69% of mobile users connecting with brands through apps.
And now is the right time for business organizations to implement apps, both externally and internally to maximize engagement with employees and customers alike. Although organizations planning to develop apps are faced with a question of if an app is mandatory or whether a mobile website would suffice.
Mobile Website Vs Mobile Apps: What's the Difference?
Both mobile websites and apps are accessed through a mobile device like a tablet or phone. A mobile website is just as it sounds. So, it is a web page, which contains browser-based HTML pages, which are linked in an organized way. Responsive websites are developed for multiple platforms and even adjust to various layouts and screen sizes. These days, responsive websites are increasingly becoming standard.
Like traditional web pages, mobile websites can display images, data, video, and text content. They can even access mobile-specific specifications like location-based mapping or click-to-call.
On the other side, mobile apps are applications, which are downloaded, as well as installed on the mobile device of a user. An app can easily pull data and content from the internet, similar to a web page, or it can download the data so that it could be accessed easily without the internet connection.
Nowadays people believe that mobile websites are insufficient to offer optimum levels of productivity and engagement. Mobile apps are vital for an organization that wants to stay one step ahead of the competition. So, what are the main advantages that mobile apps provide?
1. Increased Interaction and Engagement:
Mobile applications run within their very own interface environment that let users become more engrossed with their experience. There are several reasons for this:
Mobile Applications are Purpose-Focused:
Users generally come for associating certain tasks with applications. Users always prefer apps since they are absolutely an easier-to-use version of a website or as they are a basic version of a long procedure. For instance, purchasing a product on a website versus an app.
Mobile apps help in the process of habit building. Users relate tasks to certain devices and apps over time, becoming aware of using an array of mobile technology. The accessibility and end-of-use of a mobile app lessen the time needed to turn a procedure into a habit.
Enhanced Scope for the Interactive Experiences:
Mobile apps enable organizations to develop more interactive methods for users to engage with all their content. Instead of looking at static pictures or reading blocks of text, apps can easily integrate features that would let users interact with components of a website or article.
This leads to enhanced user engagement with your mobile application. On the other side, mobile websites run on browsers that makes them less present in the regular mobile behavior of users.
2. Enhanced SEO Potential for In-App Content:
Needless to mention, there are multiple methods using which you can easily take advantage of Search Engine Optimization or SEO benefits to make sure that your application ranks high on search engine result page. It is oftentimes believed that in-app content is ignored by Google; however, this is certainly not the case.
In reality, app indexing lets search engine crawlers index your mobile app content through deep links. And this implies your app would rank as any website would. In several cases, apps rank even higher than mobile websites.
You can guarantee that your mobile application ranks great for SEO by examining that you have all the following optimized on your respective app stores:
App description
Keyword field
Developer account name
App category
App title
Secondly, there are multiple factors that affect the SEO for your mobile application on search engines. Generally, they are referred to as the Dynamic Success Metrics that could be summarized as:
Links
Freshness
Reviews quality/ratings
Reviews volume/ratings
Download velocity
Download volume
3. Instant Access Offline or Online:
All mobile applications could instantly be accessed just by tapping on the pertinent icon on a mobile gadget. This lets users find the piece of information that they require in no time. Many apps could be accessed offline at the same time, with updates stored on the device locally until it re-joins to the internet.
Loading updated content on your app, for example, then going offline just to read, it could be really very a time-saving characteristic of mobile applications, especially for those traveling to and from work through underground trains.
On the other side, mobile websites need to be accessed through mobile browsers and take a longer time to load that could be irritating for those who use it. Mobile websites don't even work offline so that quality time is generally lost by users who are incapable of getting things done.
4. Native Features Accessible for Applications:
Mobile applications even offer additional features, as well as uses, which are not accessible on mobile sites. The most important of these is their affinity with the features and hardware of a device.
A mobile application can take benefit from native device attributes like:
Automatic and instant updates
Image uploader
Alerts/device vibrations
Email/tap-to-call
Push notifications
On the contrary, mobile sites are quite restricted as to the amount of the native features of a device, which they can access. They might comprise some of the above features or information; however, alliance with mobile devices would never be as effective.
5. More Effectual Business Procedures:
Mobile applications provide information and instant support to consumers wherever and whenever required. This implies that users can access key information instantly on their mobile device just at the click of a button.
Push alerts can be sent to users' mobile devices when new updates or information is available. Generally, mobile apps let users do everything that they can usually do on a mobile website; however, more efficiently and faster.
In contrast, mobile websites need logging in to show a particular user's key information that makes this procedure more difficult and slower. Push alerts are not obtainable on mobile websites that depend on conventional alerts like email.
6. Enhanced Security with Prevailing Systems:
Mobile applications can even integrate easily with prevailing security systems to guarantee the top levels of security. As we all know that data protection is of the great importance for companies; however, with system and device security, you can access, share, and even modify data safely on mobile devices.
Applications can use MDMs or Mobile Device Management software program that can not only lock down applications but remotely retract or deploy them as well, providing enterprise consumers with greater control of the applications on mobile devices, as well as the functionality they give.
Mobile Device Management software programs are even audited and they meet security standards that are far more protected than a standard mobile site.
7. Reduced Costs and Improved Productivity:
Possibly the greatest advantage of mobile applications is that they can easily make communication between training, staff members, and access to important resources quicker and easier.
Applications running steadfastly on devices are stated to lead to growths in productivity of between 30% and 40%, creating additional time, which could be used for generating extra revenue and business. Applications are even extremely effectual at handling, as well as deploying complex data, making reports and charts.
Mobile websites, on the other side, are usually difficult to optimize and slower to load, especially when it comes to intricate data that can obstruct efficiency and make workflow slower.
Mobile App V/S Mobile Site — What Should You Choose?
Taken as a whole, the advantage of mobile applications outweighs that of mobile sites. Mobile applications provide far more advantages, offering a rapid way for consumers to access pieces of information on their secure mobile devices.
But when it comes to determining whether to develop a mobile website or a mobile app, the right option depends on the objectives and goals of your business. In case you target is to deliver mobile-friendly content to a wider array of people, then you should definitely choose a mobile website as it is the best way to go. But if you want to communicate with, interact, and engage with your consumers to drive consumer loyalty, then a mobile application is an outstanding option. In several cases, you might decide that you require both a mobile app and a mobile website. If done properly, both could be a valuable and strategic option. Therefore, when it comes to the mobile strategy of your brand, it is certainly not a question of a mobile app or a mobile website; however, possibly a two- pronged strategy.