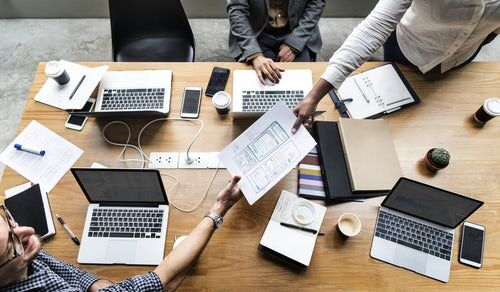 07Mar
Looking for the Most Sought-After Free Shopify Themes of 2020 for your eCommerce Store? Let's Check out these Options
Shopify will prove to be an ideal tool in case a fully functional online site is what you are looking for. This is because Shopify is quite easier to get started with and flexible to manage an array of niches with efficacy. This is the reason why it has gained enormous popularity in the last few years.
But at the same time, it is true that when you plan to use this kind of site builder platform, then there are chances of building an eCommerce store, which looks like everybody else's. Luckily, there are several themes available and hence it is easier for you to tailor your Shopify site using one of the themes. The best part? Some of the themes are free which means you don't need to invest anything.
Here in this post, we have compiled 15 best and free Shopify themes that you should consider using this year. You will get to see multipurpose themes, minimalistic themes, as well as themes made for certain kinds of stores. But before anything, you will need to know what Shopify is and why you should choose Shopify over others.
What is Shopify?
Shopify is nothing but a hosted website platform, which lets business owners sell their merchandise through an eCommerce store. Cloud is the place where it is based and it needs no complicated setup or installation, no hardware. However, setting up an online store would take some time since so many options are there.
Both WordPress and Shopify work similarly. It offers a platform within which one has the liberty to express oneself in his/her way. One can sell whatever product he/she likes in whatever way he/she likes. Practical limitations are there to this liberty; however, they never impact one's creativity.
The main motto of Shopify is to set up and run an online store as upfront as possible. The reasons for choosing Shopify as the platform of your online store:
Coupled with the advantages above, Shopify has the capability of hiding all the configuration and code behind a refined site builder. One can make use of the platform in order to design his/her store or make use of one of the free templates that we have mentioned here. Some premium templates are available as well. So, if you want, then you
can use them.
Shopify has become one of the most popular market leaders for good reasons. The setup procedure and dashboard are refined enough, the initial store setup is straightforward, and the fees are quite reasonable. This lets you spend minimal time on your store mechanics and more on selling and marketing your products. Thus, a perfect balance is maintained in eCommerce.
Shopify comes with great integration. This provides its POS system and works great with major payment providers like PayPal and Stripe, plays wonderfully with the majority number of credit cards and also integrates with the leading courier and shipping providers.
Shopify can also take good care of the fundamentals. Business cards, slogans, domain names, logos, business names, and every tiny thing that makes a business work.
Get yourself familiarize with free themes of Shopify:
The below-mentioned list of free Shopify themes is certainly some of the top-class designs that we have come across. Each theme is free to use and they offer the chance to personalize and tailor your online store so that you can stand out from the rest. So, without wasting time, check out the free Shopify themes.
1. Brooklyn:
This theme is quite remarkable for all good reasons. That's why people prefer choosing this theme over other others. The Classic, two styles, and of course, Playful Play is something that makes this theme popular. Classic works great for more mainstream or vintage stores and Playful provides infinite opportunities for fun stores or niche.
2. Annabelle:
The second free Shopify theme is Annabelle. It is a stylish theme, which suits a fashion- oriented or younger demographic one. Though it serves no specific niche. But the design elements go well with fashion or similar online stores. The great thing about this theme is that the design is pretty slick and gives an array of features to highlight your products and help you in selling them as well.
3. Simple:
If you are looking for an easy to use and minimalist theme, which is rich with features and can be able to work well for manifold store types, then Simple is the theme you need. The usage of white space on its layout makes this theme stand out and also makes it perfect for fashion stores and stores with niche merchandise.
4. Boundless:
This is one of the free Shopify themes that comes with an astounding main image section, which puts featured products center and front. Two styles are there, White and Black and Vibrant enough to suit various product types and various looks at the same time. The theme even includes featured products, social media, rich media, and highlighters.
5. Narrative:
This Shopify theme is made for working best with small stores and it consists of three different styles, cold, warm, and light. The layout is made around storytelling that is quite an effectual technique of selling and that too without making it visible you are selling.
6. Debut:
This is another free Shopify theme, which comes with a minimal design and that design builds on the love of tradition and includes some interesting design touches. Storytelling elements are there just like Narrative within the theme, which can help one in painting an image of a lifestyle with one's product to help in boosting sales.
7. Venture:
In case you want such a free theme that can have the capability of working great with larger stores and with outdoor merchandises, then Venture is your call. It can easily cope with larger scales and catalogs. With some specifications such as product filtering, Venture balances the need to sell an array of products with efficacy.
8. Fleur de lis:
This Shopify theme is from TemplateMonster. This theme offers a lot in terms of functionality and design. It comes with a minimalist design, which can be tweaked easily to suit multiple store types. Good usage of the white space, logical navigation, and flowing design help in creating an impression of a top-class eCommerce store.
9. Sports Store:
This is a free version of a paid template. It is made around a sports theme; however, can be used to suit any kind of niche. The design is simple purposely, consists of side and top navigation, search, highlight banners, and an array of interesting features that will help you in selling your products without investing much effort.
10. Bootstrapify:
This is a bit different. It is, in fact, an opensource theme, which makes use of Bootstrap to offer a fully responsive online store layout suitable for manifold store types or items It would require a bit more work than other to install, as well as set up; however, the outcomes make it worth the efforts.
11. Focus:
It is another free Shopify theme, which comes up with a minimalist design. The best part is that its design engages your visitor for a long time. Three designs are there, Craftman, eco, and Focus and all look the same; however, different as well. They can be configured easily for a wide array of store types with minimum effort.
12. Supply:
Looking for a theme that suits the needs of your large store? If yes, then Supply is the answer. This theme manages your large galleries, large product portfolios, and manifold navigation option without intricacy and comprises simple navigation. Creating collections, and product filtering. It lets your products steal the show.
13. Minimal:
The name of the theme says everything about it. However, it is pretty attractive as well. This theme lets your products shine and guides visitors well. So, it will be easier for the visitors to reach the place where they wish to go without intricacy. It comprises three styles, Modern, Vintage, and Fashion offering scope for multiple product types and this makes the theme quite a flexible one.
14. Fashe:
Fashe is another free Shopify template from Colorlib. In fact, their first one. It has a very striking storefront, solid design elements, easy navigation, blog feature, appealing design, and product showcasing that can be used to work with nearly any product type.
15. Star:
Star is one of the top-class free Shopify themes, which looks premium. This theme comes with two styles, Sirius and Polaris, which offer different looks for a varied scope. The theme consists of a wide array of customizations and color options and a selection of top-class life features for the visitors.
Wrap up…
Needless to mention, Shopify has changed and modified the eCommerce platform for the better. The blockade to entry has already been minimized remarkably, more people can sell products or services online and entrepreneurs and creatives can prioritize product development now and all those things that they are really good at and allow the platform to take immense care of the remaining.
So, have you found the ideal match theme on this given list? Which free Shopify theme is your favorite one? We would love to know your preference so do comment below.