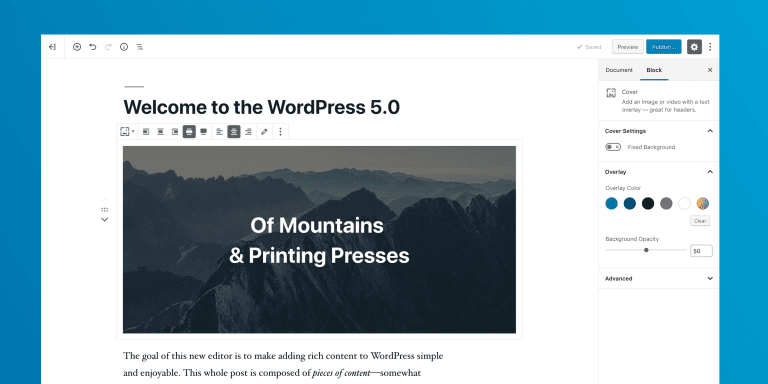 29Nov
Everything about WordPress 5.0
Release date :
The date is shifted from 27th Nov 2018,, in order to give more time for RC testing. Final date of release is not yet announced at the time of writing this information.
Testing :
In case you want to test, you can use this plugin WordPress Beta Tester. Don't forget to take backup before installing the same.
Features :
Gutenberg : the new editor
All of the previous default themes, from Twenty Ten through to Twenty Seventeen, have been updated to support the block editor.
You can improve the accessibility of the content you write, now that simple ARIA labels can be saved in posts and pages.
WordPress 5.0 officially supports the upcoming PHP 7.3 release: if you're using an older version, we encourage you to upgrade PHP on your site.
Developers can now add translatable strings directly to your JavaScript code, using the new JavaScript language packs.
Plugin and Theme Developers :

Please test your plugins and themes against WordPress 5.0 and update the Tested up to version in the readme to 5.0.
Latest updates : WordPress 5 Beta 5
Block Editor
The block editor has been updated to match the Gutenberg 4.4 release, the major changes include:
What to do ?
1) For existing websites : Create a development environment and test it with WP 5, if everything looks good, update your live site
2) For new sites :
a) Check for theme/ plugins are compatible with WP 5 or not
If you face any difficulty, you can go with WP 4 itself and once WP 5 is stable upgrade your site.
References :
1) https://wordpress.org/news/2018/11/wordpress-5-0-release-candidate/
2) https://gutenstats.blog/
3) https://www.inc.com/peter-roesler/wordpress-50-is-coming-will-your-site-be-ready.html
4) https://wordpress.org/news/2018/11/wordpress-5-0-beta-5/