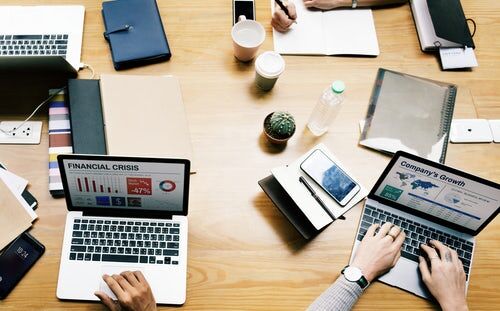 04Jan
Web Designing : Cutting-Edge Website Design Trends that would Definitely Dominate
Web designing trends change every day. It affects businesses too. The advent of new technologies gives rise to the latest trends. Some trends are recurring by nature. Simple and flat designs, which used to be quite popular in the past suit tablets and mobile phones today.
Not to mention, technological developments make websites interactive, quicker, and smarter at the same time. The present web design trends revolve around a perfect blend of technology and aesthetics. Websites, which appear modern today might fade out within six months. Users may get bored of the same, not-so-appealing appearance and may hope to see something interesting, engaging. Website designers guarantee that web designs stay updated for years. And this is possible only when it is continuously upgraded. Users engagement is something that matters the
most, right?
The year seems to be all about user experience. It is considered that the trends projected this year will concentrate more on greater speed, video backgrounds, eye-catching designs, and mobile-designs. Some trends of 2018 seem to survive this year too.
In this post, we'll be going to talk about the latest web design trends that you cannot afford to overlook at any cost. But before anything else, let's explore the meaning of web design one more time.
What is Web Design?
For starters, a web page is nothing but a combination of some pages, which appear online. Normally they are being loaded using the http or https protocol. Though some websites need the www, while others don't and it would still work really very well. There are billions of websites online these days, hence, it is important to try to make yours as outstanding as possible. You need to be professional, creative, and unique to stand out from the rest.
In addition, web design is the creative job of making a website to appear more professional and more attractive. Website design primarily deals with:
Color
Font color
Font family
Videos
Gifs, images
Responsiveness
Styles
Grids
Content
Layout
Get Familiar with the Latest Website Design Trends:
The following year is going to be controversial in the field of website design. On the one side, designers would seek simplicity in minimalism and flat designs. On the other side, animation, video background, and grid layouts would become so popular.
Now the question is: how do you balance the harmony between a gaudy web page overloaded with some fancy elements and faceless, blank pages?
Unluckily, the one perfect solution never exists. So, it's essential to find the stability between the two trending approaches and concentrate on the primary objective: make the users' experience better on your site.
A smart and experienced website designer not only keeps the image of the brand in mind while creating the layout of a website but the usability for the users as well. Due to this, every single year, designers eliminate design details, which users didn't prefer and expand on the ones, which users do like a lot.
So, this is absolutely no different, and here is a detailed list of the top trends to search for in website design for 2019.
1. Flat Design:
In the year 2017, web designers, as well as developers started creating simple and clean web pages for better mobile performance. And since then, the number of the mobile searches has gone upward. Mobile-first design for web pages has become a necessity, not an option at all.
Image-heavy sites load in a slow manner and irritate mobile users. Flat design or minimalist, clean designs are considered by loading faster and are lately trendy and also desirable for two vital reasons.
Both desktop browsers and mobile users can experience quick-loading sites
They can hold higher SEO value
Well, flat design helps a website in fulfilling a load of the speed requirements. This is the reason why the flat design has begun to become popular and would continue to be in trend into 2019.
2. Video Backgrounds:
You have perhaps seen a decent number of sites that integrate large video backgrounds just for engaging the users. Video backgrounds are an outstanding method to give the users an inside look at your business.
You can check out the property development firm Ditto's site that highlights their residential developments, providing their users with the capability of seeing the inside of the units in a charming manner.
3. Asymmetrical Layouts:
The distinctive and unique aspects of asymmetrical website design make it pleasing in terms of separating your website from other sites. In contrast to the uncluttered, simple style, which has been popular these days, asymmetrical designs are busier enough; however, look professional and clean when done right.
4. Thumb-Friendly Navigation:
Technological advancement has completely changed the way people use mobile phones. Now people browse more sites and do a load of online shopping using their smartphones. Hence, website design trends of 2019 would move toward making the websites more mobile-friendlier, beyond approachable design.
And that is exactly where thumb-friendly navigation comes in the picture. As mobile users oftentimes operate their mobile phones using just one-hand, thumb-friendly navigation option has already become an important UI feature.
5. Particle Backgrounds:
For businesses that still want to integrate motion into their sites, particle backgrounds are certainly a wonderful substitute to video backgrounds, specifically in case you are too much concerned about load time with a large background video. Well, these animations are JavaScript, which creates engaging and natural movement as a part of the background.
If you visit the site of Heystack, then you can see that they use an intricate particle background and we hope more web designers to do the same.
6. Bold Typography:
Selecting the right typography could be the difference to have a low bounce rate instead of a high one. Picking bold typography, particularly in big font size can draw the attention of the users of your site.
7. It's Coral:
Kings of color, Pantone has declared the color for 2019 to be living coral. And it is really very beautiful and eye-catching too. Pair it up with some stunning palm greens and Caribbean turquoises in order to add a tropical, cheerful feel to the design of your website.
8. Dynamic Gradients:
Color gradients start making a comeback and we all have noted before. Gradients allow for personalization with your site's color for creating something, which represents your brand in a true sense.
Apple has used gradients for its font color in order to stick with the theme of their iPhone X advertisements.
9. Rise of Minimalism:
Well, minimalism is the timeless, as well as classic web design trend that would continue to stay in fashion this year. Minimalism would go far beyond flat elements and whitespace in 2019.
Monochromatic color, grid layout, text-based designs are some of the growing minimalistic trends that would dominate the industry.
10. Sticky Elements:
In website design, sticky navigation is increasingly becoming more and more prominent. This particular trend is to have sticky elements right at the bottom, top or sides of the page; therefore, it doesn't annoy the visitors of the website. This offers users more access to more info. You can also use sticky elements for highlighting a call-to-action, chatbot, your social media links or a promotion.
11. Security-Oriented Design:
User data safety is of utmost significance in 2019. Manifold events associated with the breach of consumer data has ended up resulting in a lack of trust amongst the website visitor. For website designers, the main challenge will be to make a sense of security for the user. Various design elements can play an important part in this regard.
For instance, 2019 would see a drastic change in how the process of checkout is made. The target would be to make the procedure not only simple looking but visually secure at the same time.
New techniques to guarantee the potential consumers about the security and safety of their transactions or account information would be a vital job for the designers.
12. Speed:
A beautiful looking website is a beautiful website; however, in case the design is data-heavy that it takes long to download, then you can be losing lots of profit because of nobody sticking around to look at your website. And now Google has started prioritizing rankings for websites that load faster and it is most likely that other search engines will soon to follow the trend.
What this implies is that a website needs to load faster, so does website design require prioritizing speed during the design procedure. Website designers cannot trust the developers to turn their work simply into something that would both look beautiful and rank well – speed requires being a design parameter.
A Better Website is Around the Corner:
Web designers are increasingly becoming more adventurous, more detailed, and better at the same time. The next few years of website design would be about pushing the envelope, as well as trying some daring new, fresh ideas. Here at ScriptHub, we like to taking an old website and transforming it into something, which truly summarizes the uniqueness and exclusiveness of your brand. In case you are planning to develop a new website, one that would engage your users and also lead to more conversions, reach out to ScriptHub today to set up a meeting where we would discuss what your business objectives are and how we can actually apply them into your new website.